Jeffrey Ulatan Acquires 38% stake of $1.2Bn Resort and Casino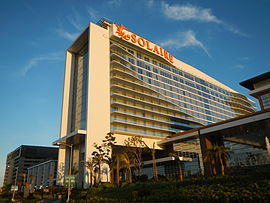 Tuesday, August 27, 2019
Ulatan Holdings, Inc., President Jeffrey Ulatan announced this week that he has accepted an offer to acquire 38% shares and voting rights stake at the $1.2BN Solaire Resort and Casino in Manila.
New York, New York, United States, 08/27/2019 / Story.KISSPR.com /
August 27, 2019 - Ulatan Holdings, Inc.a New York Private Equity Company, announced Thursday that it has accepted a deal to acquire 38% stake of Solaire Resort & Casino from Bloomberry & Sureste Holdings. Jeffrey Ulatan, the 28 year old President of the Holdings company, announced his partnership with the resort has garnered his interest in purchasing the Resort & Casino, and is on track to become a Majority Shareholder in the Resort & Casino by 2025.

The total amount of the deal was not disclosed during the press conference, but is estimated to be about $500M (USD). Ulatan Holdings, Inc. acquisition of the hotel is part of the company's goal of investing in the booming Asia Pacific market. Despite the U.S. trade-wars, Jeffrey Ulatan has remained optimistic on his investments in the Asia Pacific Markets.


Source: Story.KISSPR.com

Release ID: 12539