Toronto, Canada, 10/20/2022 / SubmitMyPR /
Yusuf Baykal Bozkurt, has been chosen as a member of the Canadian delegation for the 2022 G20 Young Entrepreneurs' Alliance Summit hosted by Wirtschaftsjunioren Deutschland (WJD) in Hamburg, Germany on October 25-28.
"I will participate in various business-building, policy-making, and networking activities with government officials, international trade organizations, consular trade representatives/business associations from G20 countries, and Trade Commissioner Services," he says, looking forward to the event. It's a true success story in many ways for the young man who came to Canada only in 2015 to learn English as an International student and is today the founder of Beonbrand Inc., which is dedicated to fostering International Education.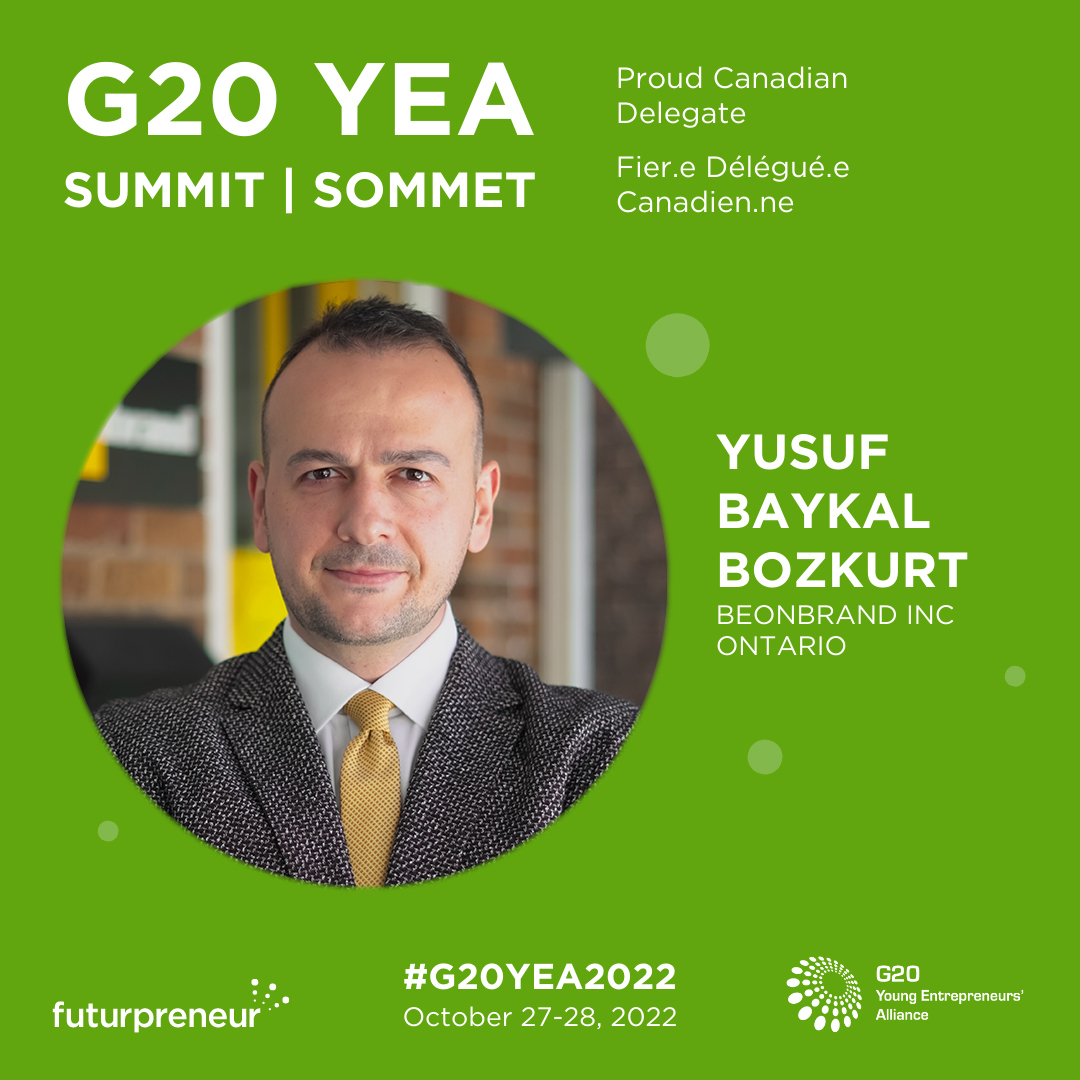 Moving to Canada from Turkey, he started working with ILAC language schools where he was studying. During his two years with the schools, he produced over 150 video campaigns, which received 11+ million video views organically. In fact, they also got Onex Corporation's (TSX: ONEX) $1.1 billion funds, which encouraged and created platforms for more international students to come to Canada. Yusuf Bozkurt's commitment to fostering international education and his own career has only gone from strength to strength since then.
His Bachelor's degrees in Media and Communication and Public Administration led the path to a career as a journalist, news anchor, reporter, video/media producer, and voice-over actor. In his two-decade-long career in the media, he also worked with the prestigious news organization – Al Jazeera. It gave him insights and cultural understandings that have been incorporated into his further work, including the launch of his content marketing agency, which works with the Canadian Higher Education industry.
Through cutting-edge branding, video production, and development, Beonbrand strives to inspire people to achieve their goals and maximize the impact to make a difference in the world. Yusuf clearly realizes the importance of international education and is happy to bring it into the spotlight at the 2022 G20 Young Entrepreneurs' Alliance Summit this year. "I believe an international education opens so many doors to discuss issues impacting G20 countries, and it will be great also to get media attention," he says strongly.
Yusuf Bozkurt has been selected as a member of the Canadian delegation for the event that is hosted by Wirtschaftsjunioren Deutschland (WJD) in Hamburg, Germany on October 25-28. 'Harbouring Peace and Sustainability through Entrepreneurship' is the theme of the event this year, and he is looking forward to making his presence felt as he highlights the importance of education as a pathway to a better world. "Beyond the summit, I look forward to being part of a cross-Canada network of champions for youth entrepreneurship, advising on issues of importance, sharing challenges, and proposing solutions on behalf of young entrepreneurs across the globe," he concludes on an enthusiastic note.
About Yusuf Bozkurt & Beonbrand Inc.
With over 20 years of experience in the media, in 2020 he founded Beonbrand, the content marketing agency that works with Canadian Higher Education Industry and is focused on fostering International Education.
###
Media Contact
Beonbrand Inc.
Address: 31 Berwick Ave, Toronto ON M5P 1G9, Canada
Phone: +1 647-677-6444
URL: https://www.beonbrand.ca/
Email: [email protected]
newsroom: news.38digitalmarket.com

Original Source of the original story >> Yusuf Baykal Bozkurt Selected As Member Of Canadian Delegation For 2022 G20 Young Entrepreneurs' Alliance Summit